Center : Stockholm
Date:
måndag 15 juli 2019 (18:00 -21:00)
tisdag 16 juli 2019 (09:00 -21:00)
onsdag 17 juli 2019 (09:00 -21:00)
torsdag 18 juli 2019 (09:00 -21:00)
fredag 19 juli 2019 (09:00 -21:00)
lördag 20 juli 2019 (09:00 -21:00)
söndag 21 juli 2019 (09:00 -21:00)

Teacher : Sarah Coleman
Bodhicitta literally means "awakened heart," and refers to the open state of mind that is the sole source of true compassion and human sanity. In order to help our world we take the heroic attitude that all other beings are more important than ourselves
Shambhala Stockholms Summer Retreat
Bodhicitta: The Broken Heart of Compassion
The Path of Mahayana Buddhism
with Sarah Coleman
Lindsberg, Falun

15 – 22 juli
Bodhicitta literally means "awakened heart," and refers to the open state of mind that is the sole source of true compassion and human sanity.
In the Mahayana path of Buddhism, in order to help our world we take the heroic attitude that other beings--all other beings--are more important than ourselves. This is not an easy thing to do!
Ordinarily, we are engaged in a continual process of trying to protect ourselves from the vicissitudes and sharp edges of our lives. Secretly we feel too vulnerable, too sensitive, to cope. We have a soft spot, a secret wound, in our hearts. We think that if anyone were to see us as we really are, we could never hold our heads up again. Therefore we hide behind masks of competence and complexity, constantly projecting one image or another, to keep others from seeing how tender and vulnerable we really are. We've been trying for so long to shield ourselves from our pain and heartbreak, literally putting our hearts to sleep.
According to the Mahayana tradition of Buddhism, there is a way to find the strength to help ourselves and our world: we must relax, drop all of the self-fabricated barriers we have erected between ourselves and our own feelings, ourselves and other people, ourselves and our world. When we allow ourselves to wake up and feel our broken hearts as they are, then we find the source of true compassion--the love, kindness and sanity that are already right there, in our very own personal experience.
A Weekthun is a week-long meditation retreat which includes meditation instruction, talks, meditation practice and discussion, plus time to relax, go for walks, enjoy the sauna, the lake and the nature around Lindsberg. During the weekthun we also offer individual meditation meetings with an experienced meditation instructor. The programme is open to everyone, no experience needed. Great for beginners – as well as experienced meditators who would like to deepen their practice
Lindsberg is a beautiful venue, located in Dalarna about a three-hour drive north of Stockholm.
It is situated nearby a beautiful lake (a ten minute walk from the venue) and there is also an old-style wood-fired sauna located by the lake. The house is surrounded by forests - perfect for long nature walks.
You can easily get there by train or bus from Stockholm via a town called Falun or Borlänge.
For more information about the venue and more photos of the house, rooms, garden and surroundings go to: http://www.lindsberg.org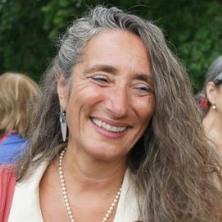 Sarah Coleman, a long-time practitioner of Tibetan Buddhism, has been a student of the Vidyadhara the Venerable Chögyam Trungpa, Rinpoche, since 1972. Serving as his editor for many years, she helped work on many of his dharma books, including Training the Mind and Cultivating Loving Kindness, a book on the Mahayana slogans of mind training. For the past 40 years, Sarah has taught extensively throughout North America and Europe.
Practical:
Arrival day (Monday July 15)
End of programme (Sunday July 21)
Departure Day (Monday July 22)
This programme is taught in English.
No translation offered.
For cheap flights to Stockholm visit for example:
You can also find tickets at
How to get there from Stockholm
At www.sj.se you can book train tickets to Falun. The tickets for summer season are available from March. From Falun there is a local bus to Lindsberg (closest station is called Bergsgården and/or Järgarvet). The timetable for the local bus see https://www.dalatrafik.se
You can book buses at https://masexpressen.se/ to the city of Borlänge. From Borlänge there is a local bus to Lindsberg (closest station is called Bergsgården and/or Järgarvet).
Remember, the sooner you book your tickets the cheaper you will get them.
Price
540 € For a bed in a dorm
590 € for bed in room with four beds

650 € for bed in double room

440 € If you choose to bring your own tent
Early bird: 10 % off if you register and pay the registration fee of 100 € before May 10th
The price includes full pension (accommodation and three meals per day) and programme fee.
There is a possibility to apply for a reduced price, please contact us for more information.
If you have any questions about anything at all, please don't hesitate to ask!
Payments from abroad
Swift: NDEASESS
IBAN: SE69 9500 0099 6026 1342 9709
Write who the payment is coming from!
Anmäl dig här på hemsidan. Klicka på Registration här nedan och fyll i uppgifterna. Betala anmälningsavgiften till pg 1342970-9, Shambhala Stockholm. Obs: skriv vem inbetalningen kommer ifrån!
Contact us here!
Frida Roa Weidenhaijn [email protected]
Sofija Terzic [email protected]