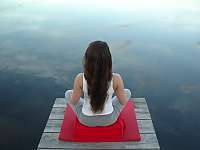 DATE:
söndag 26 september 2021 (10:00 -17:00)

LOCATION:
Stockholm Shambhala Meditation Group
TEACHER_MALE :
Shastri Alex Paterson
En dag med meditation, inklusive meditationsinstruktion. Öppen för alla. Inga förkunskaper krävs
Välkommen till
Heldagsretreat
26 september kl. 10-17
Through the practice of sitting still and following your breath as it goes out and dissolves, you are connecting with your heart. By simply letting yourself be, as you are, you develop genuine sympathy towards yourself.
Chögyam Trungpa, "The Sacred Path of the Warrior"

Välkomna till en heldagsmeditation där vi kan varva ner och meditera tillsammans.
Dagen kommer att innehålla sittande och gående meditation samt Dharma undervisning; vi inleder dagen med meditationsinstruktion i grupp. Dagen kommer att äga rum i tystnad.
Du kan anlända från 9.30. Meditation börjar kl. 10.00 och dagen slutar kl. 17.00. (Fika erbjuds under dagen. Ta med egen lunch el. ät i närliggande restaurang.)

Dagen leds av Alex Paterson
Datum: 26 september 10-17
Kostnad: 150 kr. 100 kr för studenter, pensionär och arbetssökande.
Plats: Studio Kärleken, Skärmabrinksvägen 6, 121 35 Johanneshov.
Kontakt, frågor och mer info: Alex Paterson, apaterson041mail.com 0762 28 68 03.
Varmt välkomna!!!